January Wellness and Community News
---
January 10, 2022
Have you taken some time in the past week to REFLECT on 2021? If you pause to look back on what you accomplished or how you've grown, then it's easier to look forward and set an intention or goals for 2022.
Try this simple yet powerful exercise!
Write down 3 things that:
1) went well for you
2) you are proud of
3) you are grateful for
4) are still important to you
Then choose a word or mantra for 2022. Think of something that matches your core values. Your personal hopes and beliefs have a lot more to do with you succeeding with your goals than you may realize. It could take you all month to brainstorm and that's okay. Some ideas are: Thoughtful, Accountable, Mindful, Optimistic, Ethical, Healthy, Calm, Active, Forgiving, Loyal, Reliable, and Efficient.
You'll be surprised how focusing on one theme will help you move forward. Visualize yourself taking small steps to encompass your intention. We hope as you reminisce on the year behind you that you will feel empowered to look forward to the exciting opportunities that await you in the year ahead!
---
Our PEHP Wellness programs and resources can help you on your way this year! It's not too late to sign up to participate in our activities for January:
Online Class – Lighten Up: Are you interested in learning tools to help you maintain a life-long healthy weight? If so, register for our 8-week educational series ofLighten Up! This free, online weight management class is led by our PEHP Registered Dietitian and covers topics such as healthy cooking, meal planning, and emotional eating. The class begins Monday, January 10th. To participate, register here.
---
Monthly Wellness Challenge – Boost Immunity: Bolster your immune system with some power punches that will help keep you healthy and on your feet. Learn what you can do and take action to fight off illness this winter and year-round. Register here to receive weekly emails.
---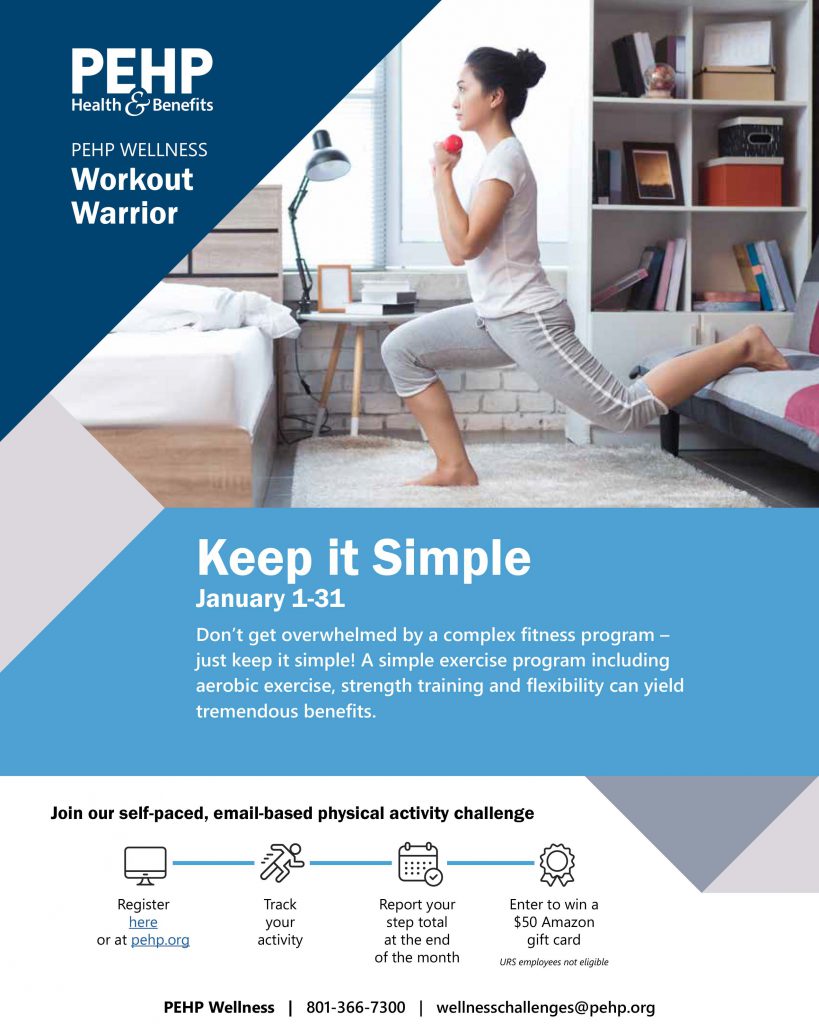 Monthly Workout Warrior Challenge – Keep it Simple: Don't get overwhelmed by a complex fitness program – keep it simple! A simple exercise program including aerobic exercise, strength training, and flexibility can yield tremendous benefits. To participate in this month's physical activity challenge, register here. New to Workout Warrior – no more counting steps, just keep track of your minutes spent being active and submit them at the end of the month to be put into a drawing for a $50 Amazon Gift Card! How simple is that?
---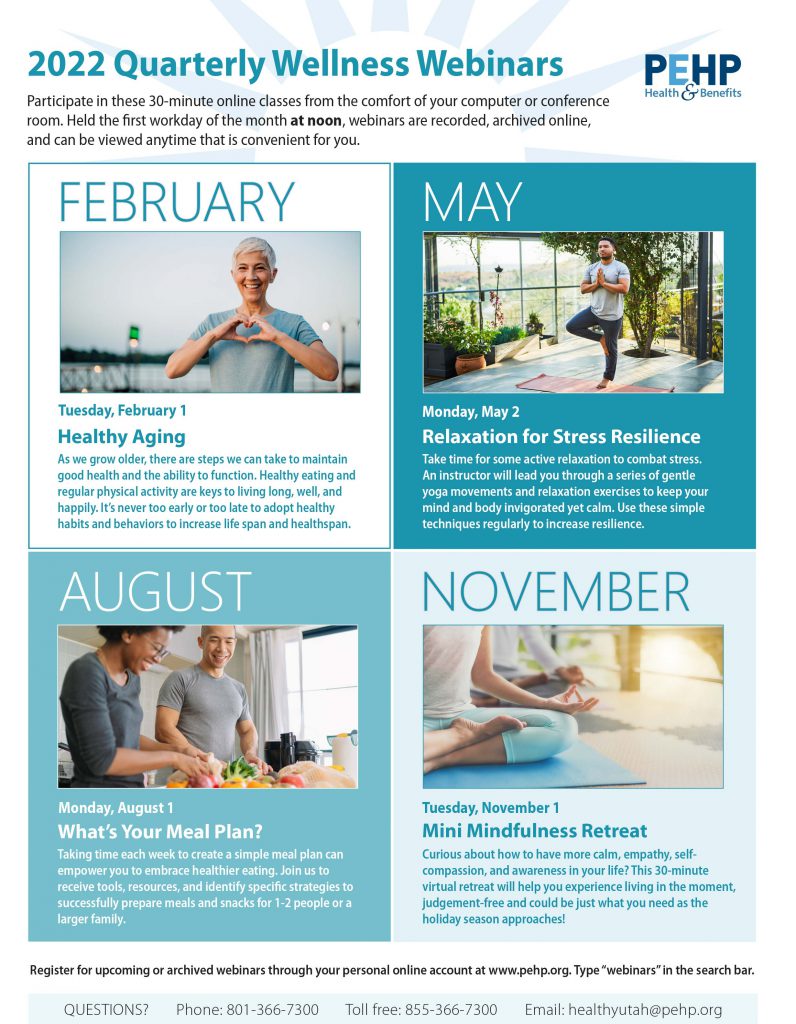 Wellness Webinar Schedule:  There are quarterly wellness webinars planned for this year. Mark your calendars and take some time for yourself.
---